We work with the local councils of Canterbury/Bankstown to improve cycling infrastucture in this areas.
We have also met with companies involved in the WestConnex project regarding its effects on cyclists. We regularly make submissions to RMS and council projects.
Greater membership of our group would give us a more powerful voice in these areas.
If you have concerns regarding any cycling issues contact the group or come to one of our monthly meeting.


Council portal for reporting cycling and other problems within the city area.
Salt Pan Creek Bridge rebuilt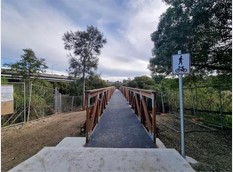 We are happy to let you know that the burnt out bridge across Salt Pan Creek between Padstow and Riverwood under the M5 has finally been replaced.
Signage for the temporary changes to the cyclepath near the intersection of Henry Lawson Drive, Milperra Road and Newbridge Road have been well signposted. Work is ongoing.
Click on the link above or on the image below for more details.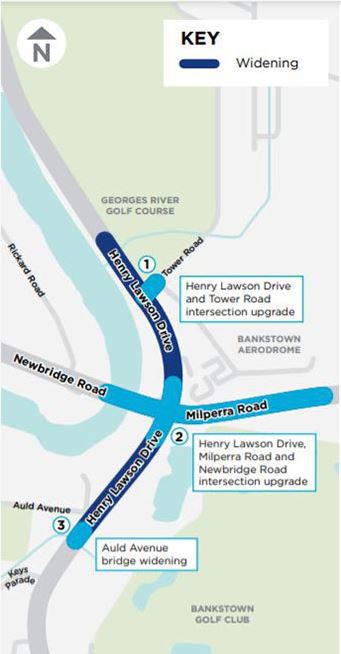 Do you want to travel in regional NSW with your bike but find it's too hard at present? Join the NSW Trainlink Campaign (supported by Bicycle NSW). Contact the relevant ministers and local mayors to urge that the new fleet of regional trains being developed now have 'Roll-on and Roll-off' capability for travelling regionally with your bike. Click on the link above for more information.
Work is progressing on the new underpass under Canterbury Rd. The detour below : –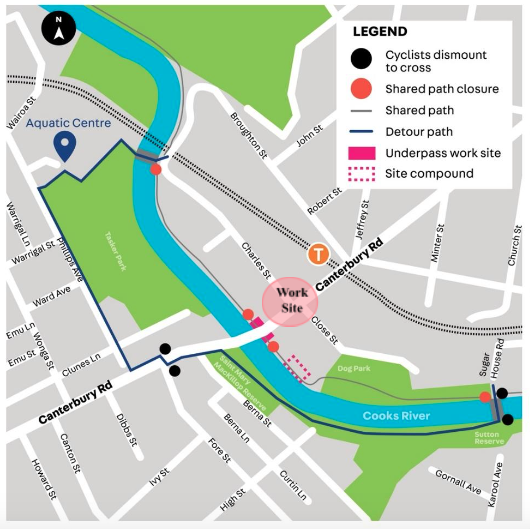 Work has begun on improving the Canterbury Rd underpass on the Cooks River Cycleway. This will greatly improve this part of the cycleway but detours will be in place while the work is being done.